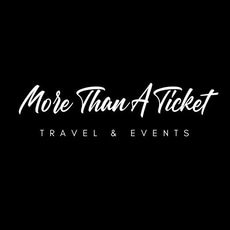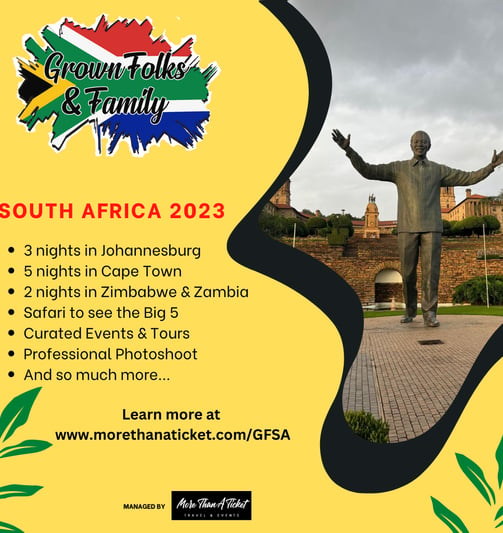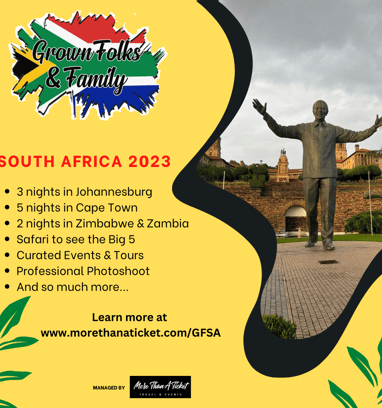 November 1-11, 2023
Grown Folks & Family Trip to South Africa
Johannesburg and Cape Town South Africa and an optional Extension to Victoria Falls, Zimbabwe/Zambia
The southernmost country in Africa. Known as the Rainbow Nation, South Africa borders Botswana, Mozambique, Namibia, Swaziland and Zimbabwe. South Africa has a population of 60 million people. South Africa loves variety; the largest city is Johannesburg. South Africa has 11 official languages: Afrikaans, English, Ndebele, Northern Sotho, Sotho, Swazi, Tswana, Tsonga, Venda, Xhosa, and Zulu. The most spoken first languages are Zulu (isiZulu - 23%), Xhosa (isiXhosa - 16.0%), and Afrikaans (13.4%). The most important religions in South Africa are various branches of Christianity (80%). Ethnic groups are black 75.2%, white 13.6%, Colored 8.6%, Indian 2.6%.
Today, South Africa is a parliamentary republic. It is known for being the strongest economy in Africa, but it is also outstanding in representing the abundance and variety of African plant and animal wildlife. In fact, the country is considered third in biodiversity, after the much bigger countries of Brazil and Indonesia. South Africa is full of history, cultural and diversity.
Famous South Africans: Nelson Mandela, Desmond Tutu, Winnie Madikizela-Mandela, Steve Biko, Shaka Zulu, Miriam Makeba
Grown Folks South Africa Trip Overview
Private group accommodations in Johannesburg and Cape Town

All Airport Transfers

Johannesburg, Pretoria and Soweto City Tours

Flights to Cape Town from Johannesburg

Flights to Victoria Falls from Cape Town

Open Bus Safari in Cape Town

Daily Transportation on a luxury bus

Visit the Nelson Mandela House, the Apartheid Museum, Mandela Square, Cultural Center and more in Johannesburg

Robben Island, Table Mountain, city tour and optional tours in Cape Town

Daily excursions in Victoria Falls, transportation, airport transfers and dedicated tour guide.
Other Curated Activities:
Charity Events

Professional Photoshoot

Braai (Cookout)

Cooking Class

Naming Ceremony and more
Additional Included Services:
Private Chef

Breakfast and Dinner Included

Housekeeping & Laundry Services

Gift Package

Bottled water and snacks

Photography on Tours

Organizers available during the trip